PROline - Ultrasonic inspection systems for laboratory & production
We manufacture high-performance ultrasonic inspection systems – from laboratory testing systems to Industry 4.0-capable, production-accompanying inline inspection systems. The core of these systems is the proven PROlineUSB ultrasonic inspection device.
Proven ultrasonic testing systems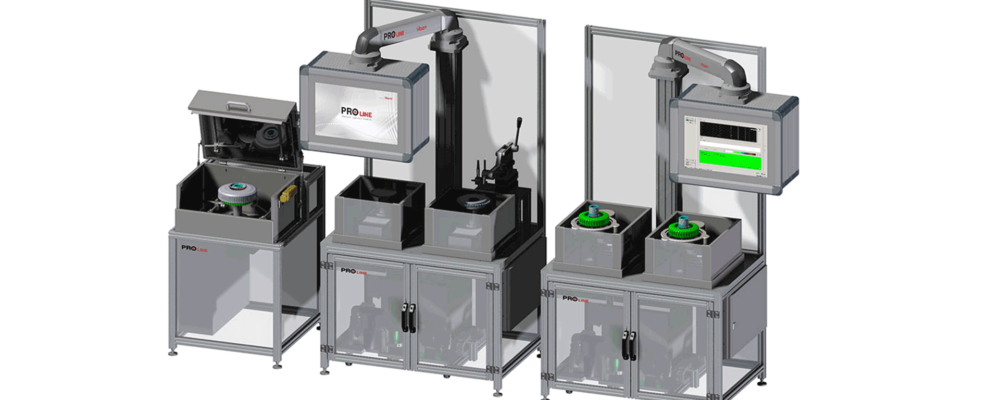 Proven standard inspection systems, which are ideally adapted to your individual inspection task using the modular principle - mechanized or fully automated.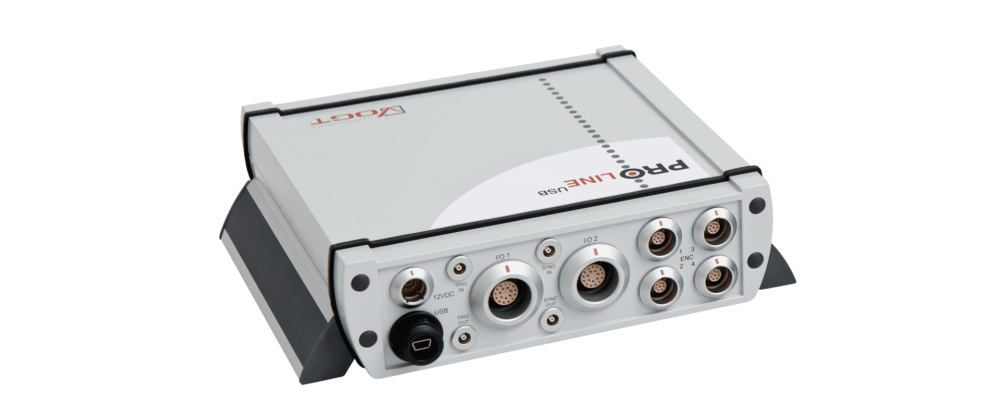 The process-safe ultrasonic inspection device as OEM solution for system integrators incl. software development kit or for modernization of old inspection systems.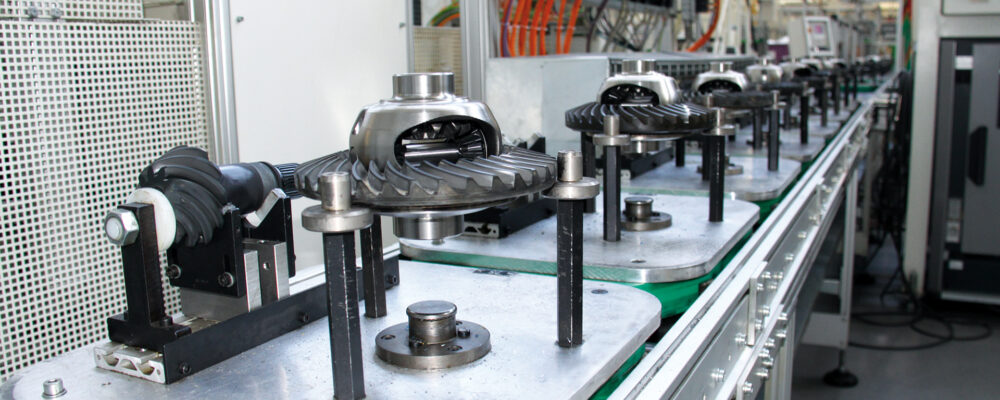 Realized PROline inline and offline ultrasonic inspection systems for different applications, e.g. for the inspection of gears, differentials, rods, rotors and CFRP rims.
efficient ultrasonic testing
PROline for your ultrasonic inspection system
With PROline we offer complete ultrasonic testing solutions for the integration of mechanized and automated ultrasonic inspection in the laboratory and in production. Ultrasonic inspection systems with PROline are used for cost-conscious component inspection in the aerospace, automotive or metalworking industries. They offer ideal conditions for testing for cracks and volume defects, adhesion qualities, wall thicknesses or soldered and coated joints on e.g. weld seams, rods, tubes, shafts, sheets, plastics and much more.
An ultrasonic inspection system basically consists of 3 components: the ultrasonic hardware, the inspection and evaluation software & the inspection mechanics. These components can be purchased individually according to the modular principle or as a package as a ready-to-use inspection system.
VOGT Ultrasonics Your reliable partner
Use of ultrasonic inspection systems for non-destructive testing (NDT)
Ultrasonic inspection systems use the physical characteristics of sound. Sound waves have the property that they are reflected at so-called border surfaces. Border surfaces can be transitions from one medium to another, e.g. from steel to air or from the base material to inclusions in the materials.
In this context, all ultrasonic inspection devices and ultrasonic inspection systems operate in a completely non-destructive way. This means that materials inspection using ultrasound does not produce any additional scrap.Ultrasonic testing systems are primarily used for the quality inspection of raw materials as well as end products. Both random sample inspections and 100% inspections of the material are performed. Metallic materials as well as plastics (e.g. CFRP components) can be inspected. Among other things, ultrasound is ideally suited for the inspection of joints (e.g. welds) for cracks, of materials for volume defects, of soldered and coated joints for adhesion quality and of wall thicknesses.
Bars are also tested for the macroscopic purity grade according to SEP 1927. Steel components with higher requirements, e.g. forgings, are tested according to SEP 1923. Rolled semi-finished products are tested according to SEP 1920. Components and materials can also be tested with PROline ultrasonic inspection systems according to ISO EN standards, e.g.
Rods, plates, forging stock and forgings according to DIN EN 4050-1, DIN EN 4050-2, DIN EN 4050-4
Bars, plates, forging stock and forgings according to DIN EN 4050-1, DIN EN 4050-2, DIN EN 4050-4
Flat steel products according to DIN EN 10160, DIN EN 10307
Steel forgings according to DIN EN 10228-3 and DIN EN 10228-4
H-sections and parallel flanges according to DIN EN 10306
Steel bars according to DIN EN 10308
Steel tubes according to DIN EN ISO 10893-7, DIN EN ISO 10893-8, DIN EN ISO 10893-10, DIN EN ISO 10893-11, DIN EN ISO 10893-12
Strip plate according to DIN EN ISO 10893-9
Wall thickness measurement on components according to DIN EN 14127, DIN EN ISO 16809
Welded joints according to DIN EN ISO 11666, DIN EN ISO 22825, DIN EN ISO 17640
Testing for inhomogeneities perpendicular to the surface according to DIN EN ISO 16826 and DIN EN ISO 16827
Metallic composite plain bearings for layer thickness bond (wall thickness >0.5 mm) according to DIN ISO 4386
Wheelset bearings, rolling bearings according to DIN EN 12080
Castings according to DIN EN 12680
PROline ultrasonic testing systems can also be operated according to DIN EN ISO 16823 with through-transmission technology and fulfill the principles of non-destructive ultrasonic testing according to DIN EN ISO 16810, EN ISO 16811.
A medium, usually water or gel, is required to couple the sound into the component. Depending on how water-sensitive your component is, our ultrasonic inspection systems work with immersion technology, local immersion technology (bubbler technology), squirter technology, puddle technology and contact technology.
PROline as the ideal solution for your ultrasonic inspection system
We offer various ultrasonic inspection systems for a wide range of applications in various sizes. The PROlineUSB ultrasonic testing device for integration into your own systems as an OEM solution or PROline standard ultrasonic testing systems for use in production or in the laboratory. The standard ultrasonic testing systems are adapted to your individual inspection task in a modular system. Thus, these systems remain flexible and allow later adaptations to increasing or changing requirements. PROline can also quickly and cost-effectively upgrade existing ultrasonic testing systems of other brands to the latest state of the art.
PROline ultrasonic inspection systems can be operated manually, mechanized partially or fully automated. PROline interlocks the production process with state-of-the-art communication technology and supports an optimal material flow. They are Industry 4.0-capable and are used across industries for cost-conscious component inspection in the aerospace, automotive or metalworking industries. They are also used to analyze materials in research and development or in quality laboratories. For example, ultrasound is used to measure the degree of purity, evaluate microstructures and test for micro and macro cracks.