With our partner we provide single and serial testing of your components with digital radiology.
How powerful is radiographic testing / digital radiology?
This inspection methode is used to detect defects in the material.
Cracks, Pores, Shrinkage cavities, Segregations, Inclusions, Doublings, Slag lines, Inhomogeneities, Bonding defects, Wall thickness variations (geometry deviations)
More than 2% to 5% radiographic depth (e.g., 100 mm penetrated material thickness results in 2-5 mm detectable defect size)
Digital radiology is NOT suitable for thick-walled components
Non-destructive testing with radiographic testing (DR)
Radiographic testing, or digital radiology, is an imaging method for testing the condition of components without destroying them. This non-destructive testing method is suitable for almost all materials. Electromagnetic radiation is used to determine the density and thickness of the component or material, thereby identifying possible defects.
VOGT Ultrasonics performs the radiographic testing in the test center or mobile at your site. Due to an automated test sequence control, this method is also ideally suited for a fast, series-accompanying inspection of your components.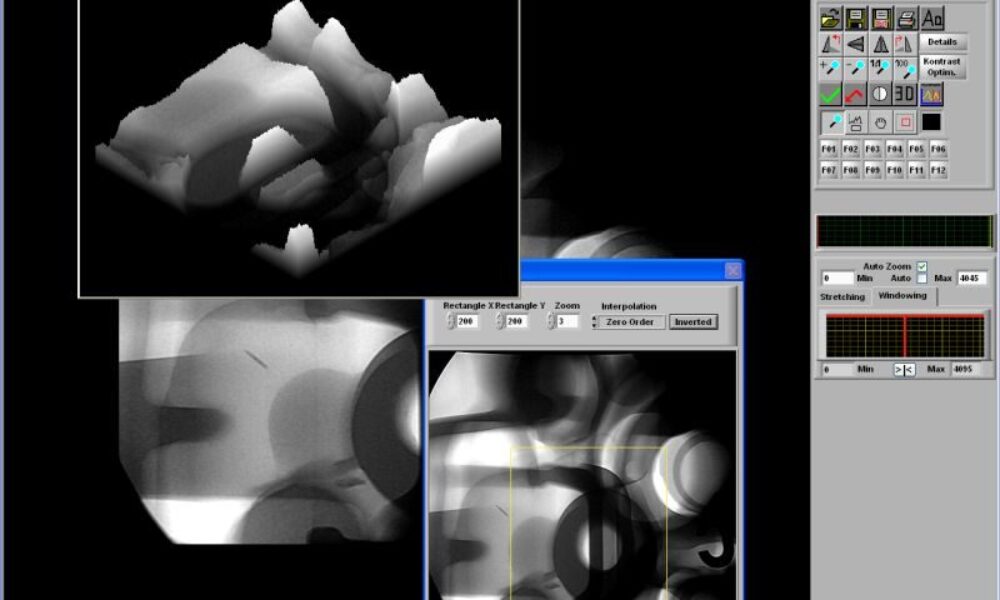 How does radiographic or X-ray inspection work?
This method of nondestructive materials testing makes use of the absorption of radiation in materials.
For the test, the component is placed in front of a radiation exposure, e.g. a radiographic film. With the aid of a suitable radiator, electromagnetic rays, so-called X-rays or gamma rays, are now generated. These beams are directed at the component to be inspected and penetrate it. As they penetrate, they are attenuated depending on the material quality and composition. The radiographic film picks up the penetrating rays, creating an image of the component.
Defects in the material, such as a deviating material thickness, can be recognized by the different blackening of this image. The denser and thicker the material, the less radiation can penetrate it. This means that the brighter its image on the X-ray film, the thicker or denser it is. Missing material such as cracks and pores therefore appear dark and are thus easy to detect.
This method of nondestructive materials testing makes use of the absorption of radiation in materials.

X-ray inspection can also be performed without an X-ray film. For this purpose, an image converter is used as an alternative, for example. When the electromagnetic waves hit the electronic image converter, it immediately provides the information in digital form. This offers various advantages such as digital subsequent image optimization and global availability of the inspection data.
How are the beams for the inspection generated?
X-rays and gamma rays are electromagnetic waves that travel at the speed of light. They have a high energy level and can penetrate materials more easily than other types of waves such as light.
For an optimum test result, the radiation must be matched to the component in question. The radiation intensity, wavelength and exposure time must be adapted to the thickness and density of the material.
How are the beams for the inspection generated?
Generation of gamma radiation
Gamma radiation is generated by spontaneous decay of radioactive elements. The most important gamma emitters for non-destructive materials testing are natural and artificial emitters such as radium, iridium-192, selenium-75, cobalt or cesium. The isotope used, i.e. the radiation source, is usually less than 1 cm in size.
Since radioactive emitters, unlike an X-ray tube, cannot be switched off, a specially protected housing is required. Thus, the isotope is enclosed in a radiation capsule, which is accommodated by the gamma device. With the help of the gamma device, the radiation can be used in a controlled manner.
For the test, the emitter is moved out at a safe distance via a "remote control" so that it can then be used to irradiate the area to be tested on the component.
Generation of radiographic radiation by means of an X-ray tube
An X-ray tube is used to generate X-rays. In general, X-rays are generated either by changes in the velocity of charged particles or by atomic transitions. The X-ray tube makes use of both.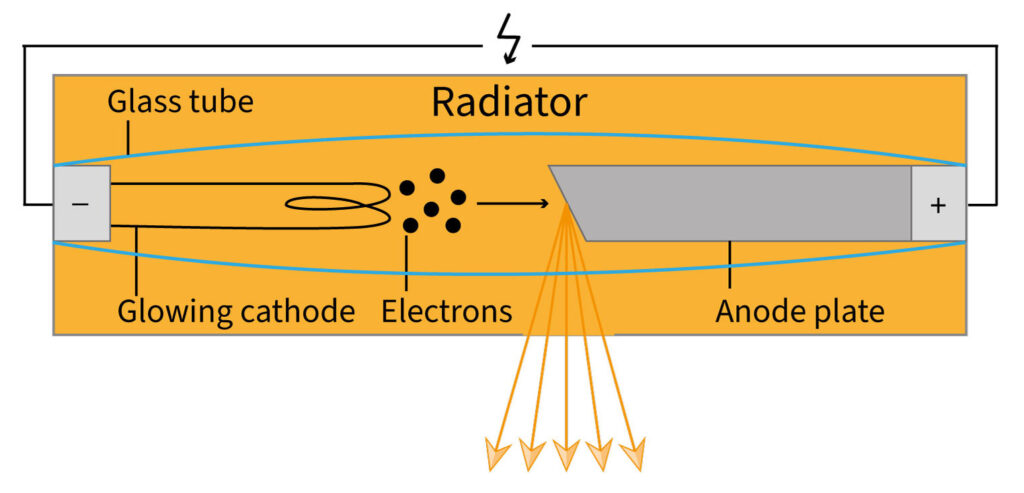 A hot cathode is heated in the X-ray tube, which then emits electrons. These electrons are accelerated by a high-voltage electric field in the tube. Nevertheless, they still do not have enough energy to generate X-rays. Therefore, there is an anode plate in the X-ray tube that absorbs the electrons.
Due to the absorption, two things happen:
The electrodes are strongly decelerated. This causes them to emit energy and X-rays.
At the same time, electrons are knocked out of the atomic shells of the anode plate, which are directly replaced by electrons moving in behind. This atomic transition also generates X-rays.
A hot cathode is heated in the X-ray tube, which then emits electrons. These electrons are accelerated by a high-voltage electric field in the tube. Nevertheless, they still do not have enough energy to generate X-rays. Therefore, there is an anode plate in the X-ray tube that absorbs the electrons.
VOGT Ultrasonics is your reliable partner
Detection of defects by means of X-ray film
Radiographic inspection is a non-destructive testing method for examining the volume of a component for defects, density or thickness differences. This includes, among other things, the detection of gas pores, slag inclusions or cracks in weld seams or castings, material inclusions due to the welding process. Almost any material can be examined using radiographic testing: Metal, aluminum, copper and plastic.
Radiographic testing finds its limits with very thick-walled components because it cannot penetrate the radiation strongly enough for reliable results.
The smallest detectable defect size is 2 – 5% of the radiographic depth (material to be radiographed in the direction of the beam). For example, if you want to test a 100 mm thick component, this results in a smallest detectable defect size of 2-5mm.
With radiographic testing, however, it is possible not only to determine whether a defect is present, but also to determine exactly where it is by means of digital techniques or computer tomography.
Radiographic testing is a reproducible testing method. This means that the test can be repeated at a later time with identical results.
Fig.: View into the interior of a component with the aid of X-ray computed tomography
Advantages of radiographic testing
As with any testing method, radiographic or X-ray testing has its advantages and disadvantages.
In conjunction with digital technologies, radiographic inspection has the following advantages:
Imaging technique for the visualization of material differences
Complex geometries are often easier to inspect than with conventional ultrasonic technology
Allows very accurate determination of defect size and location
A digital 3D representation of the test piece can be made possible
Especially for very thin wall thicknesses of welded joints, X-ray inspection offers better results than is possible with ultrasonic inspection, for example. Within certain limits, radiographic testing allows conclusions to be drawn about the type of defect and thus the cause of the defect
Electronic archiving of the test results and thus global availability are ensured
Disadvantages of radiographic testing
But of course, radiographic testing also has disadvantages compared to the other non-destructive testing technologies:
For larger wall thicknesses, ultrasonic testing is much finer in defect resolution than radiographic testing.
In most cases, radiographic testing is more expensive than ultrasonic testing.
Attention must be paid to radiation protection, official regulations and specially trained personnel as well as a license for the operation of a radiographic testing system are necessary. The thickness of the material or component to be inspected is limited. Steel components, for example, may have a maximum thickness of 300 mm, aluminum 400 mm, in order to be considered testable.
Defects such as cracks must be in radiation alignment to be detectable.
Less suitable for short spot checks due to the increased time required.
Test personnel must be thoroughly trained and made aware of the need to comply with protective measures.
VOGT Ultrasonics is your reliable partner
VOGT Ultrasonics GmbH is your service provider for radiographic testing
Together with our partner company, we test your components and materials with radiographic testing (gamma-ray, e.g. with selenium-75 and IR-192 as well as X-ray testing) in our service center or mobile at your site. Here we carry out both individual and serial testing of your components.
After your inquiry, we first check your testing task for feasibility. If your test item is testable, you will receive an offer from us. If radiographic testing is not suitable for your application, we will suggest an alternative testing method.
Our most common applications for radiographic testing come from steel construction, bridge building, pipeline and tank construction, as well as aviation, the automotive industry and shipbuilding:
Testing of welds for freedom from cracks
Testing of pipelines in operation
Testing of steel structures such as bridge
Testing of rubber and plastic molded parts
Testing of aluminum and steel castings
Mobile radiographic inspection
If the test is to take place on site (e.g. when testing a boiler) or a construction site, our trained testing personnel will come to you with a mobile testing device for radiographic testing. The tester will cordon off a suitable radiation protection area on site and perform the test.
Stationary radiographic testing
If your components are transportable, you can send them to the test center. Here they are tested non-destructively by means of mobile testing equipment or stationary testing equipment, individually or in series.
Fig. Digital X-ray inspection system (factory picture Viscom)
Standards for radiographic testing
DIN EN ISO 19232 Non-destructive testing – Image quality of radiographic images
DIN EN ISO 17636 Non-destructive testing of welds – Radiographic testing
DIN EN 12681 Foundry – Radiographic testing
DIN EN ISO 5579 Non-destructive testing – Radiographic testing of metallic materials using film and X-rays or gamma rays
DIN EN ISO 11699 Non-destructive testing – Industrial films for radiographic testing
Occupational safety during radiographic testing
Work with radiographic equipment is performed exclusively by trained and certified specialists. Suitable training is provided by the DGZfP.
X-rays and gamma rays can cause permanent damage to human cells. Therefore, the protection of living beings is the most important rule when performing radiographic examinations. This includes maintaining a distance between humans and radiation. The area of use must be cordoned off accordingly or, if an X-ray chamber is used, it must be left when the test is carried out.
The test task determines the type and strength of the radiation required. To keep the radiation protection area as small as possible, the tester always selects the lowest possible radiation strength.
For protection and control of the escaping radiation, the tester wears an official dosimeter, which immediately warns him of unexpected radiation exposure.
In order to protect and guarantee the health of the testing personnel, our testers are obliged to take part in regular occupational medical check-ups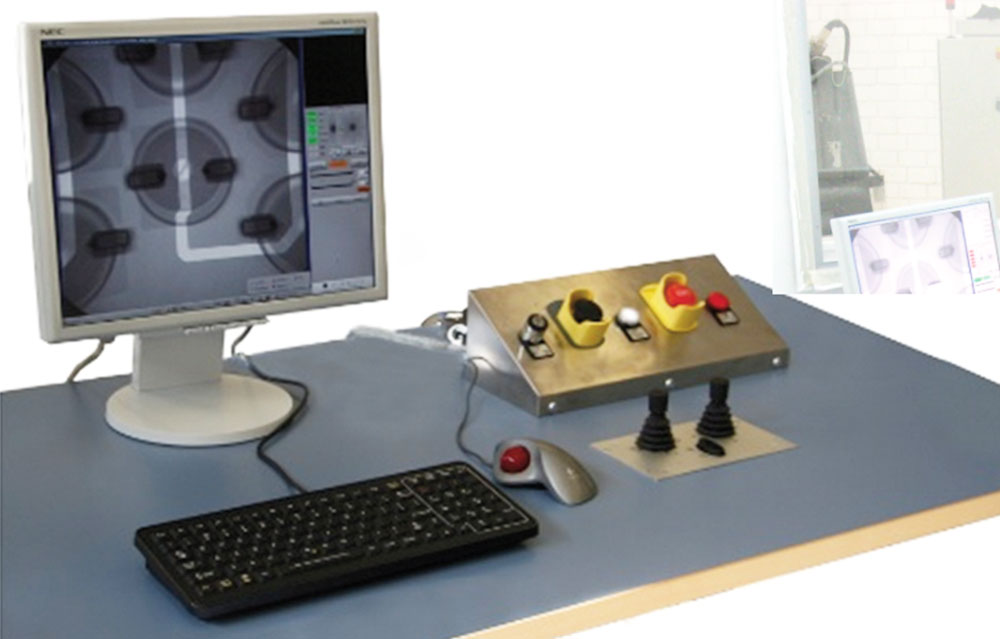 Fig.: Workstation of a digital X-ray inspection system with movable detector and X-ray tube
Digital radiology with VOGT Ultrasonics
if there are still questions
Yes, because X-rays and gamma radiation can permanently damage human cells. That is why radiographic testing requires well-trained and sensitized testing personnel as well as official approvals for the operator
No problematic waste is generated during X-ray inspection. The test equipment and systems can be switched on and off at any time.
In the case of gas mast radiation, the emitters are always active and are transported and stored in radiation protection containers specially designed for this purpose. These prevent the radiation from escaping or reduce it to a permissible level.
Radiographic inspection in conjunction with digital technologies enables very precise defect determination and location – even of components with complex geometries. A three-dimensional view of the interior can be generated without having to destroy components.
Certifications & Accreditations
Certified quality management for the industry




Certified quality management for the aviation industry




for the inspection of turbine disks (MTU)




for the ultrasonic testing of turbine disks in our testing center in Burgwedel (Hanover, Germany)
We are an accredited testing laboratory





for systematic and effective work safety





We can provide you with qualified testing personnel within the framework of temporary employment.